The guy who wears the Chimp costume for
Sacred Plant Medicine Cannabis Farmers Market
(used to be in Tacoma, but now at
Luxe Lounge in Seattle
) wears a "marijuana is safer than alcohol" t-shirt over his costume sometimes. The guy is just awesome, I've chatted with him a couple of times, and after hanging out with him, I just want to chill with him even more.
I told him that I made a stencil that says "marijuana relieves epilepsy symptoms" he said "I like that idea for a stencil, because that is part of the reason why I use cannabis."
He recently had surgery and so far he seems to be okay.
Thank you to
Kristin Flor
, for keeping us all updated on his situation.
Here we are at
Olympia Hempfest
.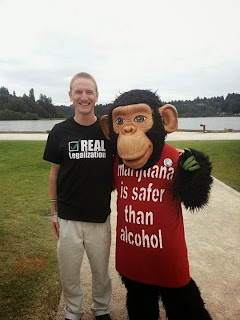 http://cannabisfarmersmarkets.com/
https://www.facebook.com/CannaFarmersMarkets